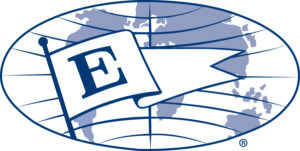 New Castle, DE — U.S. Secretary of Commerce Penny Pritzker today presented DIMO Corp. with the President's "E" Award for Exports at a ceremony in Washington, DC. The President's "E" Award is the highest recognition any U.S. entity can receive for making a significant contribution to the expansion of U.S. exports.
"DIMO has demonstrated a sustained commitment to export expansion.  The "E" Awards Committee was very impressed with DIMO's record of export sales, which exceed 50% of revenues.  The company's multi-level implementation of an export compliance program was also particularly notable.  DIMO's achievements have undoubtedly contributed to national export expansion efforts that support the U.S. economy and create American jobs." said Secretary Pritzker in her congratulatory letter to the company announcing its selection as an award recipient.
DIMO Corp., established in New Castle, DE in 1994, is a global leader in the provision of services and equipment for air, land, and naval forces.  We specialize in fulfilling aviation and defense requirements at a moment's notice.
"Exporting to our allies abroad has been an integral pillar of our company since its inception, and we are honored to receive the President's 'E' Award," said Sohrab Naghshineh, DIMO Corp.'s Owner and President. "We are deeply grateful for the opportunities that have been given to us by our country and we strive to repay that debt. Supporting global peace and security through our allies has been one way to do so, and export's direct impact on our job growth at home has been another."
In 1961, President Kennedy signed an executive order reviving the World War II "E" symbol of excellence to honor and provide recognition to America's exporters. Today, Secretary Pritzker honored 123 U.S. companies with the President's "E" Award for their outstanding work to reduce barriers to foreign markets and to open the door to more trade around the world.
For additional information regarding this press release please contact:
Omid Naghshineh
302-324-8100 (EXT. 137)
OMID@DIMO.COM