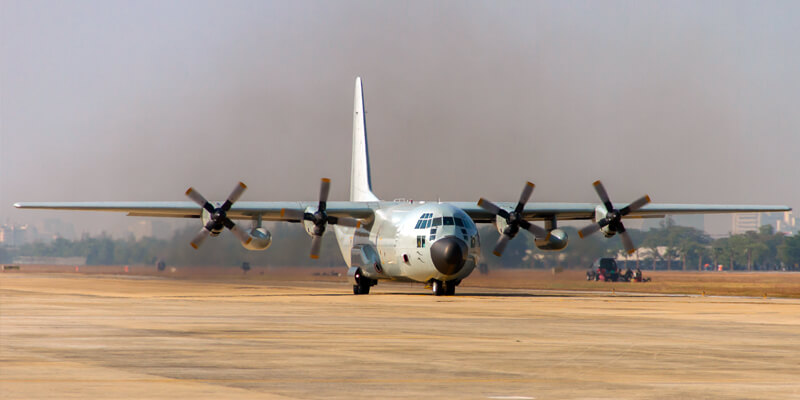 C-130 Parts & Spares
DIMO Corp. is a distributor/representative to a number of major North American and European companies. With our extensive C-130 Hercules parts inventory, we can provide complete 24-hour parts and component support for military aircraft. We are able to quickly obtain difficult to find items with competitive pricing utilizing our numerous aerospace contacts. Please view our partial parts list for the C-130 / KC-130 or contact us for a complete list of parts and component capabilities with C-130 fuel systems, hydraulics, actuators, landing gear, wheels, brakes, avionics, instruments, and more surplus parts and categories.
The C-130 Hercules primarily performs the tactical portion of an airlift mission. The aircraft is capable of operating from rough, dirt strips and is the prime transport for airdropping troops and equipment into hostile areas. The C-130 operates throughout the U.S. Air Force, serving with Air Mobility Command, Air Force Special Operations Command, Air Combat Command, U.S. Air Forces in Europe, Pacific Air Forces, Air National Guard and the Air Force Reserve Command, fulfilling a wide range of operational missions in both peace and war situations. Basic and specialized versions of the aircraft airframe perform a diverse number of roles, including airlift support, Antarctic ice resupply, aeromedical missions, weather reconnaissance, aerial spray missions, firefighting duties for the U.S. Forest Service and natural disaster relief missions.
| wdt_ID | PN | DESCRIPTION | NSN |
| --- | --- | --- | --- |
| 1 | 8422-001 | HYDRAULIC ACCUMULATOR | 1650-00-920-1810 |
| 2 | 8421-001 | HYDRAULIC ACCUMULATOR | 1650-00-960-0744 |
| 3 | 731700 | DUAL LEVEL CONTROL VALVE | 2915-00-074-1724 |
| 4 | 1009350-2 | ROTARY ACTUATOR | 2915-00-616-5726 |
| 5 | 27531 | HYDRAULIC SHUTTLE VALVE | 4820-00-529-4717 |
| 6 | 20348 | HYDRAULIC SHUTTLE VALVE | 4820-01-285-4558 |
| 7 | 342326-10R | SKIN | 1460-00-673-9832 |
| 8 | 350372 | RETAINER | 1500-00-594-7756 |
| 9 | 3345828-1 | PLATE, STRUCTURAL, AIRCRAFT | 1540-01-472-2134 |
| 10 | 3345828-2 | PLATE, STRUCTURAL, AIRCRAFT | 1540-01-472-2136 |
| | PN | DESCRIPTION | NSN |