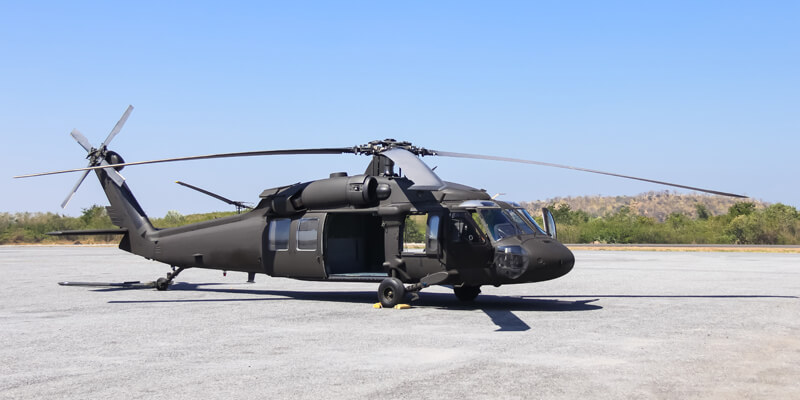 S-70 Parts & Spares
DIMO Corp. is a distributor/representative to a number of major North American and European companies. With our extensive S-70 Black Hawk parts inventory, we can provide complete 24-hour parts and component support for military aircraft. We are able to quickly obtain difficult to find items with competitive pricing utilizing our numerous aerospace contacts. Please view our partial parts list for the S-70 or contact us for a complete list of replacement parts and component capabilities with Black Hawk fuel systems, hydraulics, actuators, landing gear, wheels, brakes, avionics, instruments, and more surplus parts and categories.
S-70 Black Hawk Partial Parts List
For a complete list of parts, please view our Parts Search page.
NOMENCLATURE
PART NUMBER
ALT. PN
NSN
Accumulator, Self-Displacing, Apu
N/A
70651-03201-102
1650-01-084-3096
Accumulator, Self-Displacing, Apu
N/A
70651-03201-105
1650-01-222-4316
Valve, Motor Operated
N/A
S6165-63571-101
4810-01-050-0888
Pitch Trim Servoactuator(UH)
N/A
70410-02561-112
1650-01-106-3160
Pitch Trim Servoactuator(UH)
N/A
7054-0561-112
1650-01-375-3160
Pitch Trim Servoactuator Assembly (UH) Includes SAS Trim Servo (Overhual & Repair)
N/A
70410-02760-047
1680-01-137-3533
Pitch Trim Servoactuator(SH)
N/A
70410-22760-045
1680-01-287-1645
Pitch Trim Servoactuator(SH)
N/A
70410-22760-045
1680-01-473-9491
Pitch Trim Servoactuator Assembly (UH) Includes SAS Trim Servo (Overhual & Repair)
N/A
7041022760-053
6615-01-474-6122
Roll Trim Servoactuator
N/A
70410-22760-044
N/A
Roll Trim Servoactuator
N/A
70410-02561-111
70410-22760-049
6615-01-158-5748
1680-01-287-0125
Roll Trim Servoactuator (SH/MH)
N/A
70410-02561-111
70410-22760-049
6615-01-158-5748
1680-01-287-0125
Pitch Trim Servoactuator Assembly (UH) Includes SAS Trim Servo
N/A
70410-22760-050
6615-01-158-5986
Yaw/Collective Boost Assembly
N/A
7041002910-065
1650-01-143-1227
Yaw/Collective Boost Assembly(includes SAS and Trim Servo
N/A
70410-22910-045
6615-01-158-1256
Trim Servovalve
N/A
70410-02540-102
1650-01-263-7870
SAS Actuator
N/A
70410-02500-049
1560-01-129-1256
Trim Servo and SAS Actuator Assembly
N/A
70410-02500-047
1650-01-308-9459
EM Yaw Trim Servoactuator
N/A
70400-02260-119
1680-01-285-0344
EM Roll Trim Servoactuator
N/A
70400-02260-118
1680-01-246-4313
Pitch Trim Frame Assembly
N/A
N/A
1680-01-166-9681
Pitch Trim Booster
N/A
N/A
1650-01-098-4352
Pitch Trim Booster
N/A
N/A
1650-01-375-3161
Hydraulic Amplifier Assembly
N/A
N/A
1650-01-095-7159
Roll Trim Servoactuator (SH/MH)
N/A
70410-22760-043
1650-01-095-7159
Vibration Control Actuation System, Electronic Unit Blackhawk
N/A
70600-01816-103
6635-01-557-9607
Vibration Control Actuation System, 1000 LB. Mechanical Unit Blackhawk
N/A
70600-01816-102
6635-01-559-2514
Vibration Control Actuation System, 450 LB. Mechanical Unit Blackhawk
N/A
70600-01816-101
6635-01-559-4795
Vibration Control Actuation System, Electronic Unit Seahawk
N/A
71600-21818-101
1680-01-562-7349
Vibration Control Actuation System, 450 LB. Mechanical Unit Seahawk
N/A
71600-21816-101
1680-01-561-6395
Vibration Control Actuation System, 1000 LB. Mechanical Unit Seahawk
N/A
71600-21817-101
1680-01-567-7350
Nitrogen Concentrator OBIGGS
3261151-0101
N/A
N/A
UH-60Q MSOGS Oxygen Concentrator
3261093-0203
N/A
N/A
Slip Ring (Tail Rotor)
AW3018-44
70550-02129-044
5365-01-316-7471
Brush Block
AW3018-3
70550-02129-106
5977-01-106-2173
Slip Ring
AW3018-8
70550-02129-110
1660-01-303-1979
Slip Ring Assembly
AW2876-43
70550-02128-043
5975-01-334-0999
Slip Ring
AW2876-1
70550-02128-101
1650-01-095-7240
Brush Block Assembly
AW2876-2
70550-02128-102
5977-01-111-4348
Rotor Assembly
AW3018-5
70550-02129-112
6105-01-310-5087
Stator Assembly (Slip Ring)
AW3018-1
70550-02129-104
6110-01-106-9368
Slip Ring Assembly
N/A
70550-28901-104
1650-01-314-7849
Actuator Assembly
N/A
70400-02260-117
N/A
Actuator
N/A
70400-02260-121
1680-01-285-0344
Actuator Assembly
N/A
70400-02260-119
1680-01-285-0344
Actuator Assembly
181950-5
N/A
1680-01-169-0858
Hydraulic Accumulator
3197170-2
70651-03201-102
1650-01-084-3096
Accumulator -APU
3197171-5
70651-03201-105
N/A
Motor Operated Valve
1010563-2
S6165-63571-101
4810-01-050-0888
Cover, Junection Box
287510
N/A
5975-01-153-1927
Brush Assembly
AW3018-9
70550-0219-111
5977-01-316-3888
Slip Ring Assembly (Capsule DE-ICE Tail Rotor)
AW3018-43
N/A
N/A
Junction Box Casting Assembly
287508
N/A
5975-01-143-1269
Radio Receiver
622-8078-046
N/A
5826-01-433-1555
Actuator, Electro-Mechanical, Rotary
181950-5
N/A
1680-01-169-0858
Actuator, Electro-Mechanical, Rotary
70400-02260-117
N/A
1680-01-285-0344
1680-01-169-0858
Actuator, Electro-Mechanical, Rotary
70400-02260-119
N/A
1680-01-285-0344
Actuator, Electro-Mechanical, Rotary
70400-02260-121
N/A
1680-01-285-0344