DIMO Corp. provides components support for a variety of commercial and military applications. From avionic parts such as synchros, to fluid rotary unions and cryogenic coolers. With our distribution capabilities we can source and support your equipment needs.
As an OEM distributor for Moog we offer unique product offering of motion technology (slip rings, motors, resolvers, drives and actuators) and fiber optic products provides the capital assets and engineering capabilities to design, manufacture and integrate these discrete products into an integrated gimbaled mechanism.
Our support for integrated assemblies range from simple combinations of slip rings and resolvers to sophisticated electromechanical assemblies including the motor, drive electronics, fiber optic rotary joints, hydraulic and pneumatic swivels and RF rotary joints. We also offer and provide support for fully integrated servo and utility actuators complete with precision gearing, clutches, brakes and closed-loop control electronics.
Component Integration
A rotary Interface assembly includes slip ring or twist capsule, fiber optic rotary joint, RF rotary joint, fluid rotary union with housing and bearings. This assures the transfer of electrical power, data, and fluid power across two rotating planes in your system. Then, if motion control is needed, we offer the motor, resolver, encoder, actuator or brake in the one unit. It can slew, track and stop where you need it.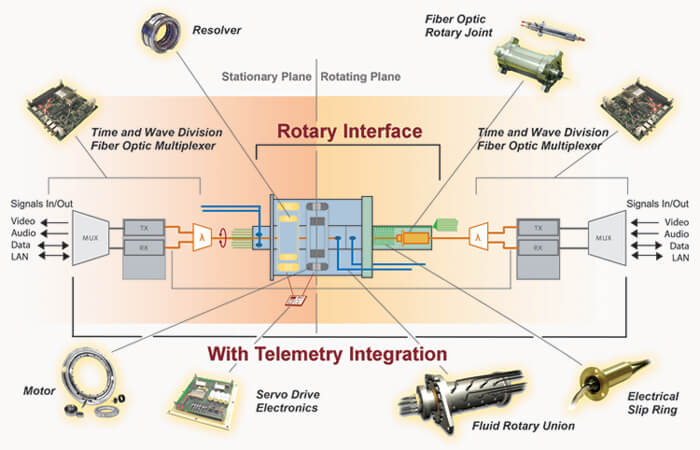 Examples of Platform / Integrated Assemblies

Helicopter

Slip ring, resolver, and RF rotary joint

Helicopter

Twist cap and resolver

Rotocraft

Slip ring, resolver, and monopole sensor

Armored Vehicle

Slip ring, resolver, R-to-D network, hydraulic and pneumatic swivel, and power distribution

Armored Vehicle

Slip ring, encoder and pneumatic swivel

Radar

Slip ring, motor, resolver, motor control and drive electronics, and 2-channel fiber optic rotary joint

Radar

Slip ring, digital resolver, motor, and bull-gear

Radar

Servo actuator, motor, and drive electronics

Countermeasures for Aircraft

(Azimuth Assembly) motor, resolver, bearing, structure (elevation assembly) slip ring, motor, resolver, bearing, structure

Primary Flight Control

Motor, resolver, brake, shaft, bearing, structure

Satellite Mechanism

Motor, ball screw, and balanced weight

Solar Array Drive

Slip ring, motor, harmonic drive, and potentiometer

Solar Array Drive

Slip ring, motor, and resolver